Whoniverse1000 | Important Information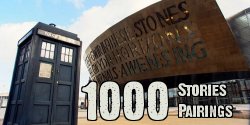 Story Count: 270/1000


whoniverse1000 // The DW Random Pairing Generator //
the_randomiser
---
I currently crosspost all of my entries to both Dreamwidth and LiveJournal. If you would like to have access to locked posts on both sites, for the purpose of reading comments, please let me know. I try not to duplicate people on my reading lists, but I can give you access on DW while following you on LJ in that case.
☀ archive of our own ☀ deviantart ☀ dreamwidth ☀ etsy ☀ fanlore ☀ ff.net ☀
☀ neopets ☀ pinboard ☀ settiai.com ☀ teaspoon ☀ tumblr ☀ youtube ☀
---
Transformative Works:
I have no problem with people podficcing, remixing, translating, drawing art based on my fanfiction, etc. All I ask is that you let me know about it and link back to the original fic or vid that it was based on.
---
Dear Author/Vidder Letters:
Femslash Exchange
Holly Poly
Yuletide